Golfing in Thailand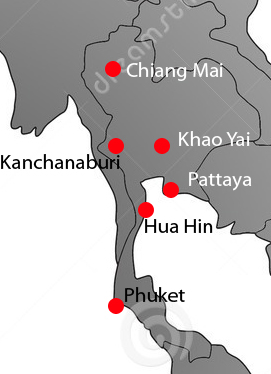 Thailand with its fascinating beaches, cuisine and warm, hospitable people has been Asia's favourite tourism and second-home as well as retirement destination for many years. Golf is a major part of the appeal of Thailand, having an abundance of top quality golf courses across the country.
GolfAsian Property specializes in golf course properties throughout Thailand. We offer the best villas for sale on golf courses or nearby, those properties that represent excellent quality and value for money, often featuring magnificent views of the golf courses or the sea. We also have a portfolio of golf course condominiums for sale, many of which are located directly on course or adjacent offering ultimate convenience for passionate golfers.
If you already have a destination of choice for your property purchase, please click the destination on the map and you can search and view all properties in our portfolio.